Eleven hour day – Check!
July 2, 2023
July 1 was our longest day in the rehearsal process. It's often called the "10 out of 12" day. A day where the technical elements – scenic, lighting, props, sound, and special effects are incorporated into the show. It's the beginning of tech week and is one of my favorite days.
Last week, while watching this brilliant cast do their work during rehearsal, I whispered to my co-director, Christine, "I can't wait to see this with lights." And I was not disappointed.
As a lighting designer, there is a lot of magic to be made. The script gives insight, the conversations with the director(s), and the intricate knowledge of how light works can lead to beautiful shows. And then there is this show – our designer, Isaiah Leeper – has been indeed giddy over working with the cast. One of the greatest compliments I've heard given to a cast is that he is excited to light them…not just the show, but the actors/characters and the work they are doing which are inspiring more magical moments than anticipated.
Another aspect of this rehearsal process that I'm thrilled to hand over has been some sound design-ish work. Music is very inspirational to me and at least a few times, I've based entire show concepts on the feeling I get from one song. When I was directing "After Juliet" in 2013, I had just been introduced to The Punch Brothers and Electric Guest. "The Bait" by EG and "Movement & Location" by The Punch Brothers evoked such imagery for me that I commissioned some original music based on that feeling and decided on a steampunk theme, which tied the whole show together.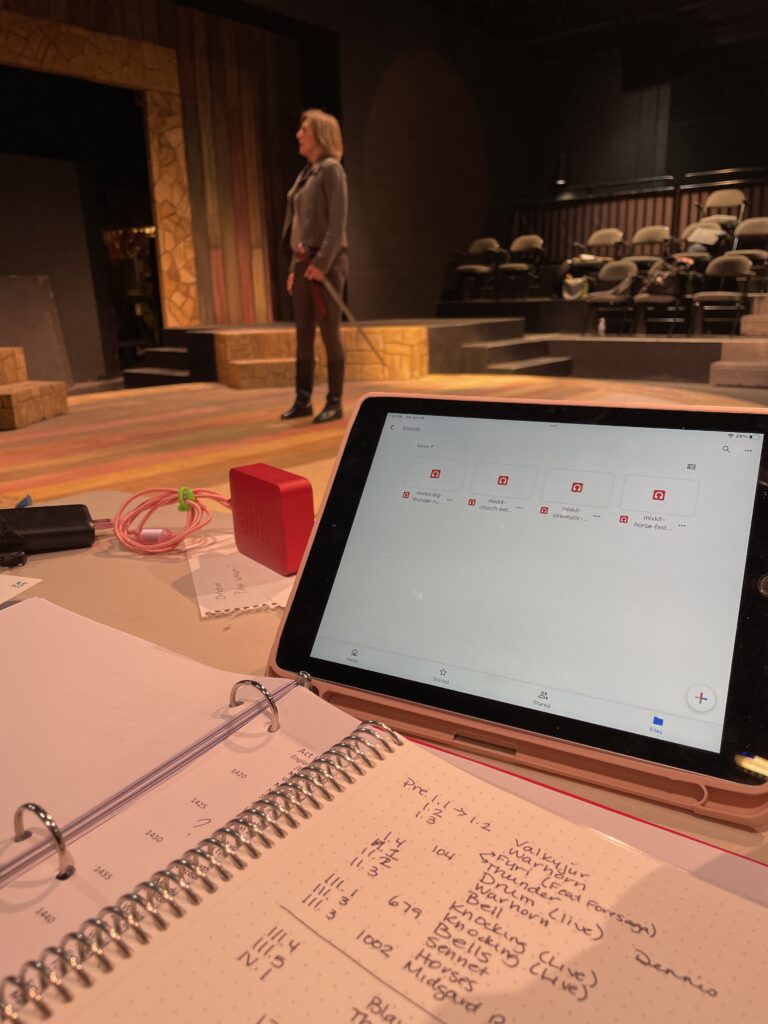 For this show, we have set it in the mid-1200s where the Vikings were being beaten by the Scots after over 400 years. We have incorporated that Viking theme into the show, and the music is a big part. And to truly work with the music for the witch scenes, alarums, and flourishes, we had to get creative. And I've been trying to run as much of it as I can, as it was gathered, during rehearsal, I discovered I was missing watching the show as much as I wanted to. As we are co-directing, I knew we were covered, but wanted to do more of my part in the note-taking. So, on Saturday, I got to give over the sound to our sound team, Elijah, Scott, & Gabi and it was remarkable to hear it through the theatre speakers. It's going to be amazing!
Tech day is over, we made it through the show, and it is going to be stunning! The cast is ready for the next step, which is Monday with first dress. They will dress in their costumes, put on their makeup and do their hair…then just four more days til opening. I hope you'll join us!
~Lori Ann, co-director, Macbeth
You May Also Like
May 30, 2023
June 29, 2023
July 2, 2023